10 Scroll-Stopping Freediving Photos from Instagram
June 13, 2022
Who does not love an Insta scrolling-session? With thousands of beautiful diving destinations and underwater camera equipment becoming more advanced, there are some incredible underwater photos being posted every day. If you love freediving, you are looking for inspiration for your own shots, or you just enjoy looking at gorgeous underwater pictures, you have come to the right place. We have put together a list of our top ten favorite freediving photos on Instagram today. We will look at what makes each picture unique and dive into the location in which it was taken.
Ready to start scrolling? Check out our top 10 freediving photos.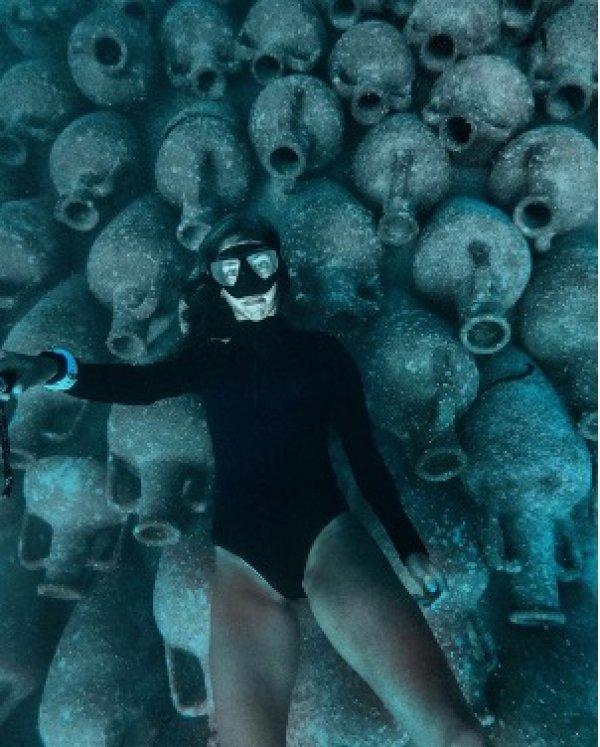 Photo by: @alice_shibumus (permission given)
1.Freediver @alice_shibumus took this fantastic selfie in Kas, Turkey.
The famous underwater broken pots make for an interesting backdrop in this freediving photo of @alice_shibumus. This photo proves that you do not need a fancy underwater camera to take awesome selfies.
Kas in Turkey is becoming more and more well known in the freediving community, for both line divers and fun divers. It offers warm, clear waters through the summer and even into the month of October. It also holds fascinating history; underwater archaeologists have mapped over 125 sites around Turkey, the most famous being a shipwreck just east of Kas. As well as pots and shipwrecks, you might spot turtles and even dolphins.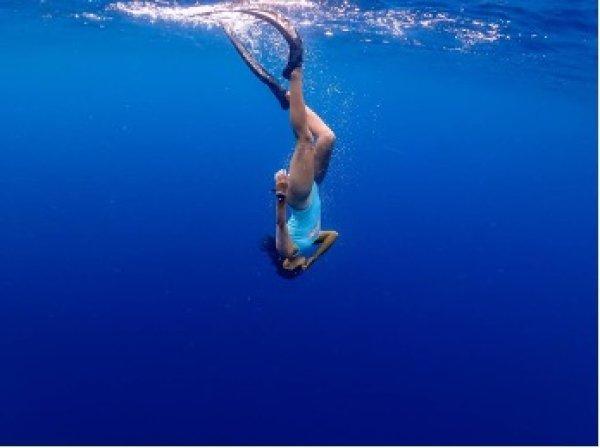 Photo by: Unknown
2. Freediving instructor @essiemermaid duck diving in the Philippines.
Check out this photo of SSI freediving instructor @essiemermaid performing a duck dive in the deep blue waters of the Philippines. We love it because it really highlights the fun of freediving!
The Philippines is an archipelago that sits in the "coral-triangle" which includes ecosystems that contain more coral reef species than anywhere else on the planet. Aside from stunning corals, you can also dive amongst turtles and whale sharks.
Many freedivers go diving in the Philippines to enjoy near-perfect training conditions, to work towards more depth, or competitions.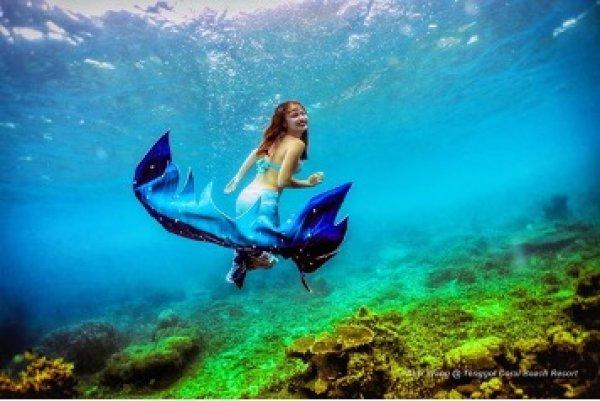 Photo by: @alexwang.instructortainer
3. Mermaid instructor @adelina.c.yinling showing off her gorgeous mermaid tail.
In this shot we see SSI mermaid instructor @adelina.c.yinling showing off her mermaid tail. We love that the tail is almost the same color as the crystal-clear waters of Pulau Tenggol that surround her… Mermaiding looks fun, right?
Pulau Tenggol is an island off the coast of Terengganu, Malaysia. Towering cliffs and white-sand beaches welcome you as you approach the island. When you descend under the surface you will find shipwrecks, pristine coral reefs, and large pelagic life like whale sharks and manta rays.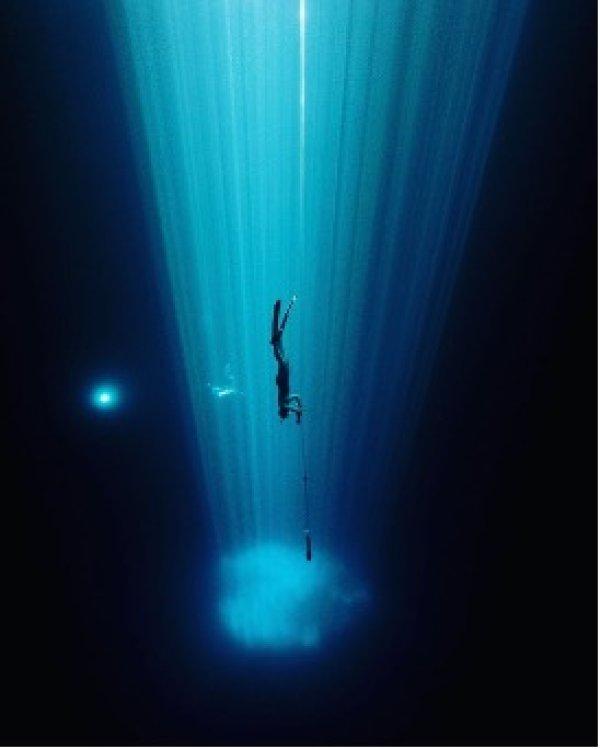 Photo by: @rodrigosalsas (permission given)
4. Freediver @slntnmz exploring the incredible cenotes of Mexico.
Taken in the famous cenotes of Mexico, freediver @slntnmz features in this magical natural spotlight. We love the contrast of light and dark in this image.
The Mexican cenotes are seen regularly on Instagram as the backdrop for some incredible freediving photos. Their clear water and unique lighting make pictures extra special.
There are thousands of cenotes (natural sinkholes) dotted around the Yucatán Peninsula of Mexico and they even extend into Belize and Guatemala. Cenotes vary in size and depth, but all hold unique beauty.
You might see fish, including cichlids, poeciliids, pimelodid, caracid, and the synbranchid that live in this kind of environment. If you are lucky (or unlucky depending on how you look at it!) you might even cross paths with a crocodile!
READ MORE: BEST DIVING IN MEXICO PART 4 – YUCATÁN.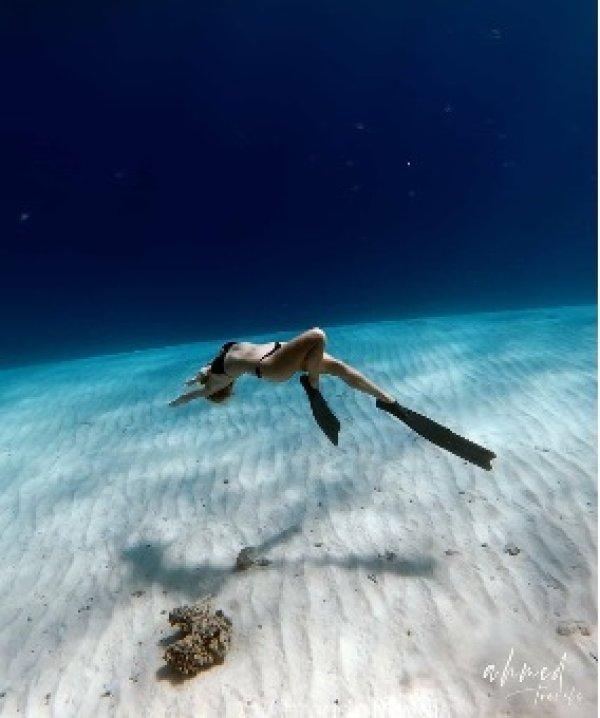 Photo by: @ahmed_travels (permission given)
5. Writer and diver @charlystringer freediving in Dahab, Egypt.
SSI writer @charlystringer looks like she is hovering on the moon in this freediving photo taking in none other than the freediving Mecca of Dahab, Egypt. Diving allows us to feel completely weightless, and like we are on another planet. We think this picture sums that up well.
Most freedivers have heard of Dahab; a place with deep depths from the shore, clear waters year-round, and most famously, the Blue Hole.
Many elite freedivers come to Dahab to train or take part in competitions due to its superb diving conditions. Not only does Dahab offer great opportunities for training, but for fun diving too.
With many flourishing coral reefs to choose from, this is a great destination for capturing a quality underwater selfie.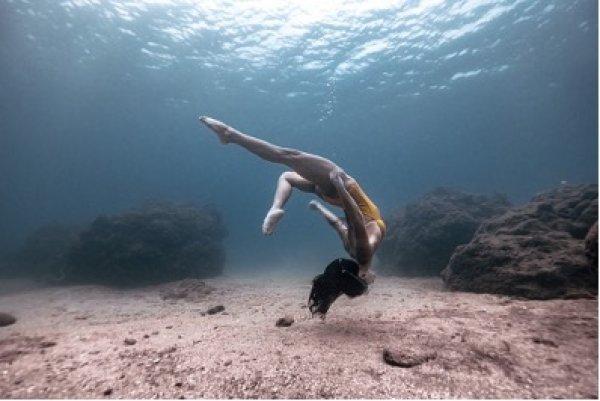 Photo by: @cetacea__matt (permission given)
6. Freediving instructor @ccn.ning dancing underwater in Taiwan.
SSI freediving instructor @ccn.ning from Cetacea Freediving school features in this underwater dance photo, taken in Taiwan. We love the contrast of the yellow swimsuit against the blue backdrop.
There are excellent freediving locations all over Taiwan, from Maoao and Longdong in the North, to Green Island and Orchid Island in the East, and Siaoliouciou in the south.
You can spot curious turtles and dive amongst colorful corals. Taichung even has a hotel that offers a swimming pool of 68 feet (21 meters) deep, which includes an artificial shipwreck and coral reef. Certainly a cool place for a selfie!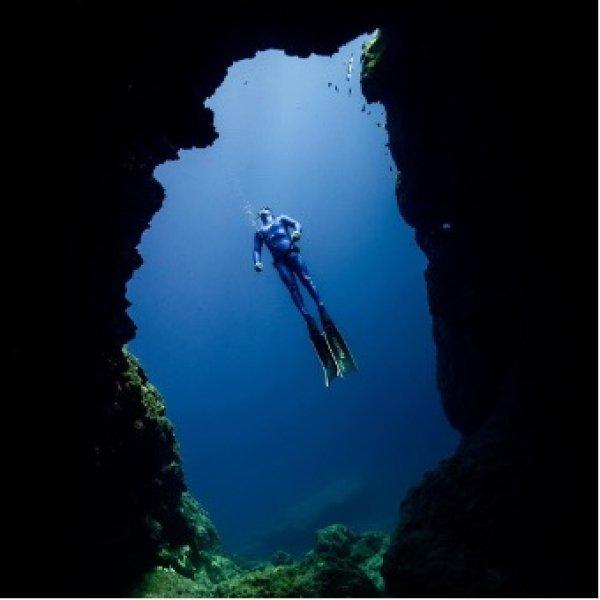 Photo by: @bastien_soleil (permission given)
7. The @amorgosdiving team exploring the clear, blue waters of Greece.
This shot was posted by Amorgos Diving Center, an SSI freediving center in Greece. We love so much about this freediving photo; the blue wetsuit against the blue water, the contrast between light and shadow, and how the cave frames the diver just perfectly.
Greece has 240 inhabited islands and borders the Ionian Sea and the Mediterranean Sea. It is a popular spot for freedivers due to warm waters in the summer and excellent visibility.
Home to shipwrecks, reefs, caves, and near-perfect conditions for training, many people go diving in Greece year after year to take part in competitions and enjoy Greece's famous blue waters.
The combination of beauty both above and below the water make Greece so special!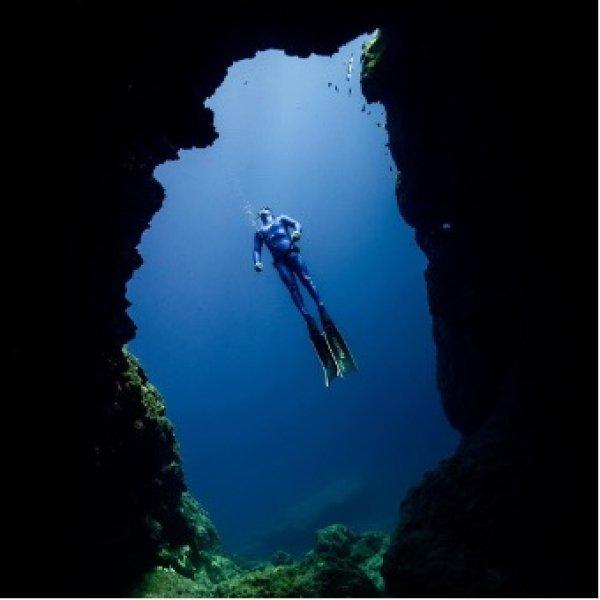 Photo by: @diver.junchi (permission given)
8. Freediving instructor @jiujiteirofreediver below a glass bottom boat in South Korea.
SSI instructor @jiujiteirofreediver is the star of this photograph taken under a glass bottom boat in South Korea. We love the reflection of the diver creating a cool symmetry.
The East Sea in South Korea has perfect conditions for learning how to freedive, plus quick and easy access to depth. Jeju Island is a great option for exploring more beautiful ocean life.
If pools are your thing, there is also the K-26 pool which delivers 85 ft (26m) of depth, which makes it the deepest pool in Asia. South Korea has a little bit of something for all freedivers.
READ MOREL DISCOVER THE 10 BEST FREEDIVING SPOTS IN THE WORLD.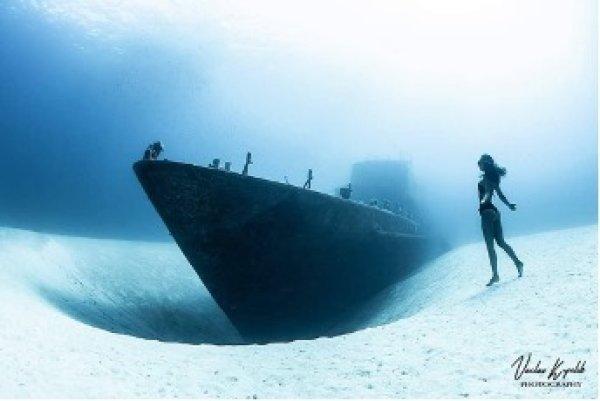 Photo by: @vaclav_krpelik_photography (permission given)
9. Instructor @mellystyle posed for this dreamy picture in Malta.
SSI instructor @mellystyle is featured in this beautiful picture in Malta. It looks like a scene from a fairytale.
Malta is most famous in the diving community for its shipwrecks, but it also boasts excellent visibility and around 300 days of sunshine throughout the year.
As well as shipwrecks, freedivers can explore underwater caves and swim-throughs; the scene for many Instagram photos.
Divers pose in the beams of light that shine through cracks in the caves. If you are looking to fill up your grid with scroll-stopping freediving photos, diving in Malta will surely deliver.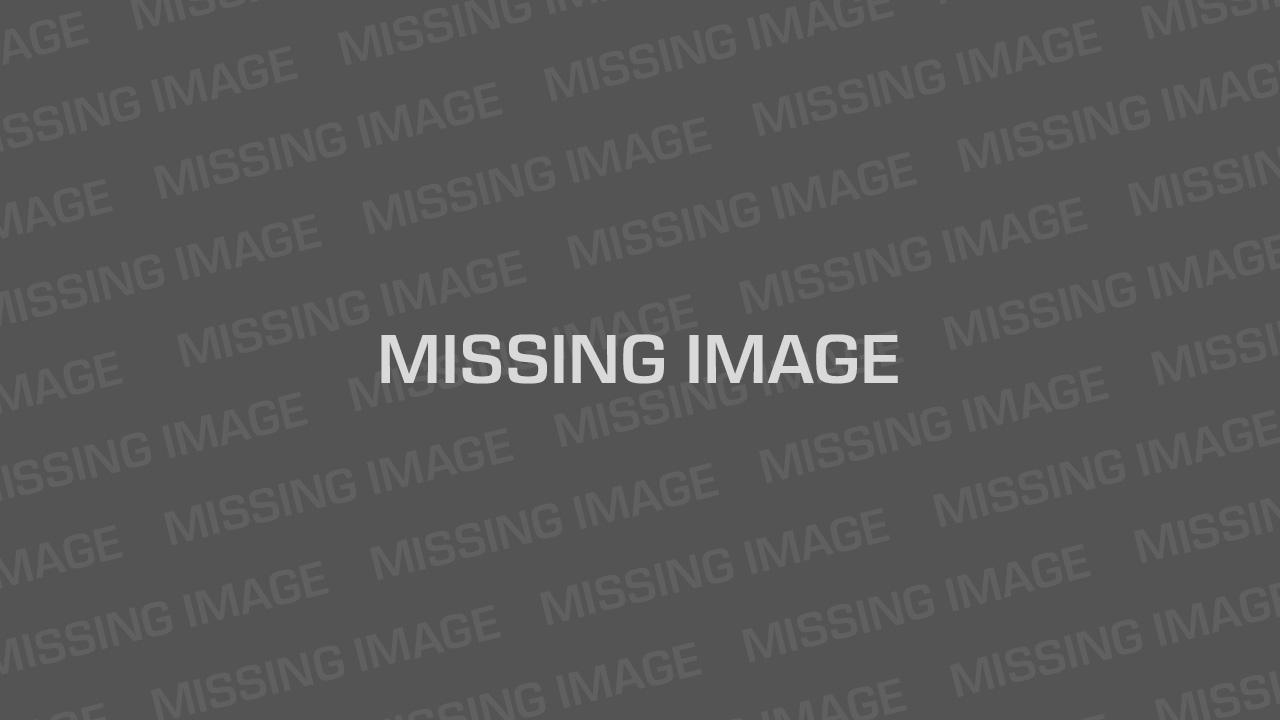 Photo by: @niccolostevens (permission given)
10. Miss Mermaid Nevada @thesailingsiren shows off her elegant mermaiding skills.
SSI freediving instructor and official "Miss Mermaid Nevada" @thesailingsiren shows off her elegant mermaiding skills here in the Philippines... How cool is that tail?
The Philippines is another top spot for freedivers, due to its excellent conditions for training, and its diverse marine life. You can spot whale sharks, turtles, and more than 2000 species of fish!
You certainly will not get bored fun diving around the many dive sites of this archipelago. Many freediving selfies are taken in the famous Barracuda Lake on the north shore of Coron Island; a crater of deep blue water, surrounded by jagged limestone cliffs.
Do you feel inspired to book a trip to one of these beautiful places and capture some #freedivingselfies?
Check out all of these featured destinations and more on MyDiveGuide. Your next freediving adventure awaits!
LOVE FREEDIVING? CONTINUE YOUR JOURNEY WITH SSI'S ADVANCED FREEDIVING COURSES.